We have been showing and exhibiting these little guys for the last fifteen years, and each and every InVolo puppy is a part of our Family. Our Papillon puppies are not only beautiful, but are also very well bred as we have the top quality lines in the United States. We breed for HEALTH, temperament, type and soundness. The welfare of these wonderful little puppies is our foremost consideration.
All of our puppies are raised in our home with love and care. The Babies spend the first twelve weeks of their lives in our Kitchen where we watch them grow and develop. Our Puppies get professional veterinary care for their shots and visit the Animal Hospital three times before we let them go to a forever home. All of our InVolo puppies are show quality in appearance and conformation, unfortunately we just can't keep them all! So, we occasionally have pet puppies or retired show dogs available to wonderful homes.
At this time, we have Mandy available to the right home. Mandy is such a joyful baby girl. She never has a bad day and loves life! Her favorite things are her toys, her people, and her doggie friends. Mandy would make a great addition to your home!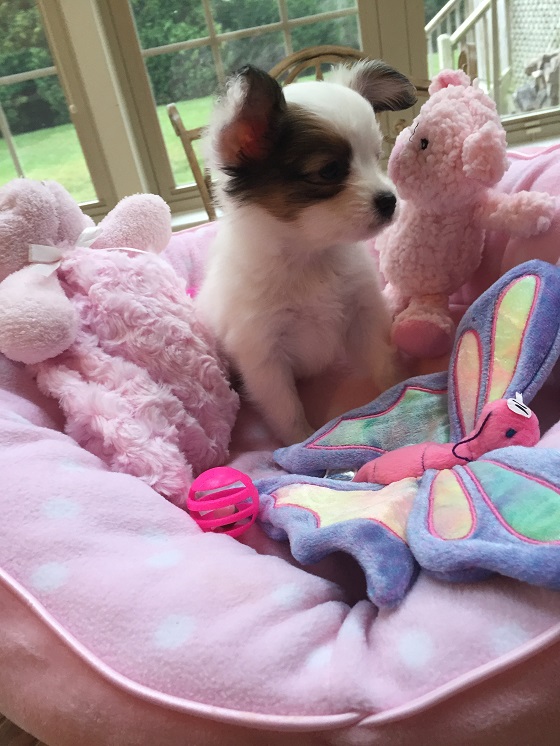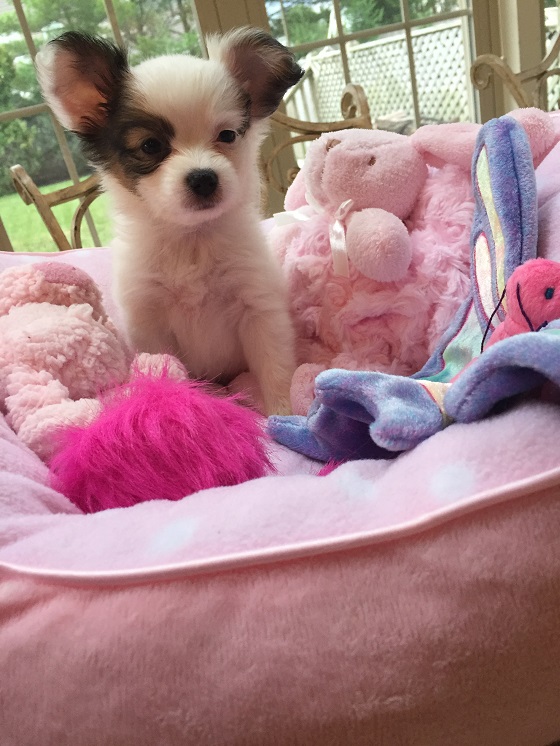 If You are interested in owning your OWN InVolo Puppy, please fill out our application form and we will be happy to get back to you. If you would like more information about the Papillon breed, show dogs, companion dogs, or just to chat about our puppies, please feel free to call us at:

(856) 875-0901 or e-mail us.
We are conveniently located near Pennsylvania, New York, and Maryland. We hope you enjoy visiting with us and our butterflies.
InVolo Papillons occasionally has an adult or puppies available. Our Papillons are wonderful companions and are also very successful in Obedience, Agility and Rally Competition.